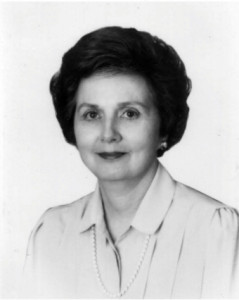 My name is Elizabeth (VanBradt) Meredith. For a goodly part of my life I have gone by the nickname "Lisby," a name of which I am not particularly fond. My parents were Harry Lawrence and Fern (Veerkamp) VanBradt.
After completing public school at Tulsa Central High School in 1943, I attended the University of Tulsa from which I graduated magna cum laude in 1947 with a Bachelor of Arts degree. While in college I was for two years editor of the school yearbook, belonged to Mortar Board and a number of honor societies and the Chi Omega Sorority.
Following university I worked as a draftsman and later as the first female piping designer in the petrochemical industry where I met my future husband Samuel Lee Meredith. Shortly after marrying we moved to Houston, Texas. We have two sons, Samuel Lee Meredith, Jr. and Lawrence Lynn Meredith. In relation to my husband's work, on three occasions we have had the opportunity to live overseas, namely in Rotterdam, Madrid and London.
My hobbies are playing duplicate bridge and genealogy researching. The hobby of genealogy developed into something more than a hobby when I became a Certified Genealogist and began taking clients. I have enjoyed some success as a genealogy lecturer. My volunteer activities have included becoming a Certified Braillist, volunteering at the Lighthouse of Houston and at Houston Taping for the Blind.
Formerly I was a member of the Samuel Sorrell Chapter of the Daughters of the American Revolution. My current memberships include the Houston Genealogical Forum, the Huguenot Society of Texas and the Chi Omega Alumnae Association.